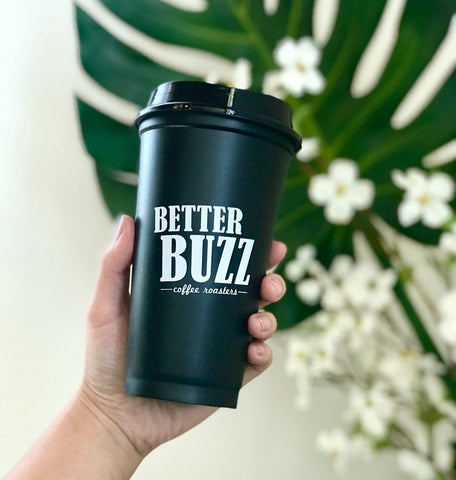 Better Buzz is striving to make a positive environmental impact. We are excited to introduce sustainable and eco-friendly products and practices throughout all our stores. It is our goal to raise social awareness about simple eco-friendly methods that can have a major environmental impact.
How are we doing this?
Reusable Drinkware
Single-use coffee cups create a lot of unnecessary waste. For that reason, we encourage our customers to bring their own cup, or opt for one of our limited edition sustainable hot and/or cold tumblers - now available for purchase at all our locations! Additionally, come back and use a Better Buzz reusable drinkware and get $0.25 off your drink!
Stainless steel straw
Americans use over 500 million plastic straws every day and many of those end up in the ocean! Our goal is to transition our guests to stainless steel straws that fit perfectly in any glass or to-go cup. We also provide paper straws at select locations that are 100% recyclable. Our goal is to have all of our locations offering paper straws by the start of 2020.
Sipper Lids
As part of our substantiality initiative, we're also transitioning to cold sipper lids at all our locations. The cold sipper lid is the perfect way to enjoy any beverage with cold froth. Plus, it's 100% recyclable and a great alternative to using straws!