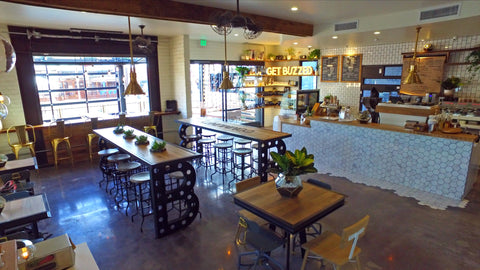 Whoa! We can't believe It's been over a month already since we've opened the doors to our New Better Buzz Café & Drive Thru in Pacific Beach. We would like to Thank the 35,000 plus Coffee Enthusiast who have turned out to support our shop this past month, thank you so much for getting buzzed with us!
If you haven't been to our New Better Buzz location yet, don't worry you can swing by anytime and see us! Try our 3 Seed Avocado Toast or an O.G. Acai Bowl made with Fresh Berries, Bananas, Vanilla Granola, Organic Acai and Honey. Have you tasted an Iced Gibraltar yet? Named for the four-ounce glass in which it is served. An Iced Gibraltar is a double shot of Espresso shaken with a bit of Simple Syrup, served over ice with a touch of milk on the side. Enjoy your coffee while relaxing on our Swing Benches or maybe challenge your friends to a friendly game of Corn hole or Giant Jenga on the spacious patio. Don't forget our patio is Dog Friendly so please bring man's best friend to partake in our awesome atmosphere. They can even enjoy a Puppuccino while you enjoy your Best Drink Ever.
You will notice as you walk in, we of course did not leave out our signature phrases from the design. "Life's Better Buzzed" is painted on our creatively designed succulent wall, "Coffee First" on the far dining room wall and "It's Time to Get Buzzed" painted on the floor as you walk in. All painted by the very talented Right Hand Signs in San Diego.
1186 Garnet Ave  I  Pacific Beach, CA  I  92109  I  (858) 274-2899  I Mon-Sun 5am-9pm