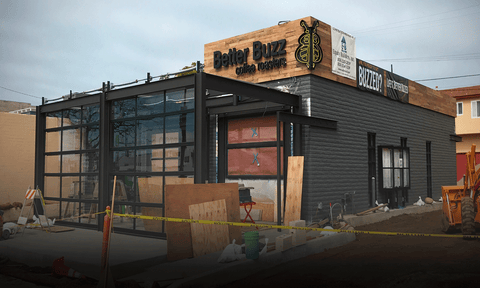 Oversized Bench Swings, Avocado Toast, Customized Espresso Machines, Hexagon Tile & Concrete Floors, Succulent Living-Walls, Cold Brew on Nitro, Wrap around Drive Thru, Spacious Patio, the list goes on of all the amazing things to come at our new Better Buzz Pacific Beach Cafe & Drive Thru. With the signage going up, the espresso machines and equipment ready we are so excited to announce that the Grand Opening is just around the corner!
We have completely gutted 1186 Garnet Ave which will be home to our seventh Better Buzz Coffee. This new location will join our current Pacific Beach Better Buzz and help us celebrate 10 wonderful years as a coffee shop in the Pacific Beach.
"Life's Better Buzzed" will be your motto as you hang out in our stylishily Modern Design Café and try to decide if you will order a Caprese Grilled Sandwich or 3 Seed Avocado Toast; if you will have our New Orleans Style Cold Brew or our ever popular "Best Drink Ever". With our Full Drink and Food Menu available to both Café and Drive Thru customers, everyone will be able to enjoy their favorite Better Buzz Items daily.
As we head into the final stages of our new Better Buzz Pacific Beach, we hope you are as excited as we are!
I  1186 Garnet Ave San Diego, CA. 92109  I